Tandem parachute jumps will allow you to try skydiving, free fall or parachute flights how only experienced skydivers can. Without any effort or risk you can jump and look at the world from above. For a tandem parachute jump you don't have to undergo any lengthy training or medical examination. Anyone aged 8 to 100 years old can complete a tandem jump with us. You can also provide tandem skydiving with paraplegics.
You are tied to a tandem pilot and jump freely for 35 to 50 seconds. At an altitude of 1800 meters, the instructor opens a tandem parachute and you can enjoy an additional 5-8 min flight. You can try driving yourself during the flight, if you want it. Before landing, the instructor will take control of the parachute from you and land safely together.
We will record your tandem jump from the very preparation to landing.
An hour after the jump, you'll receive an edited and sounded videorecord. Fifteen minute record would be awesome memory of this special moments.
Tandem jump price including a jump with and instructor, rental of all equipment, including overlls, certificate, all airport fees and injury insurance.
Look at our courses offer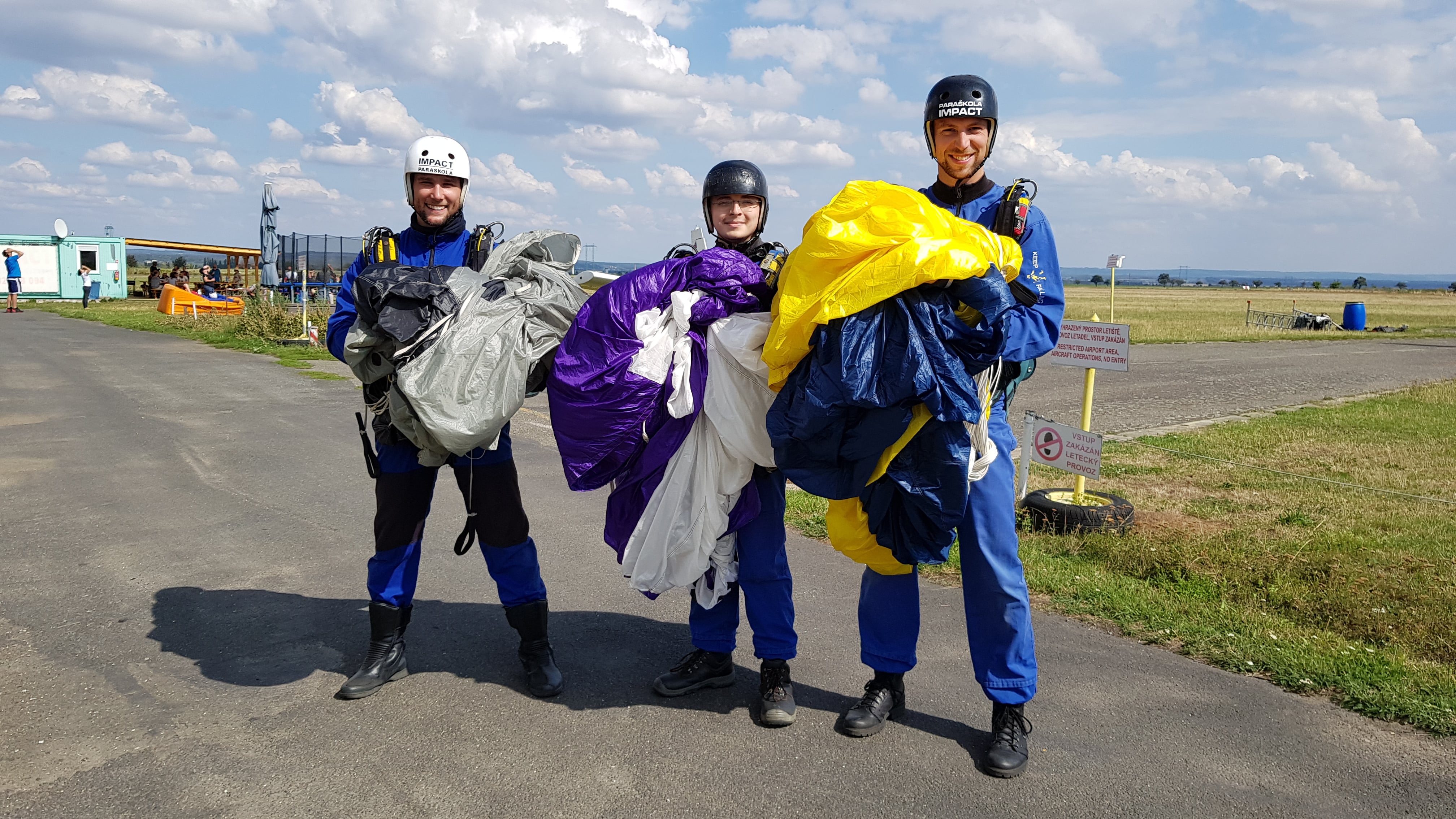 Basic Course
Basic course is jump with the automatic opening of the parachute, including ground training program. Parachute is opening thanks to pulling rope and in 5 seconds after jump is fully open and functional. The student controls the parachute and lands himself with the help of navigation from the instructor through the radio.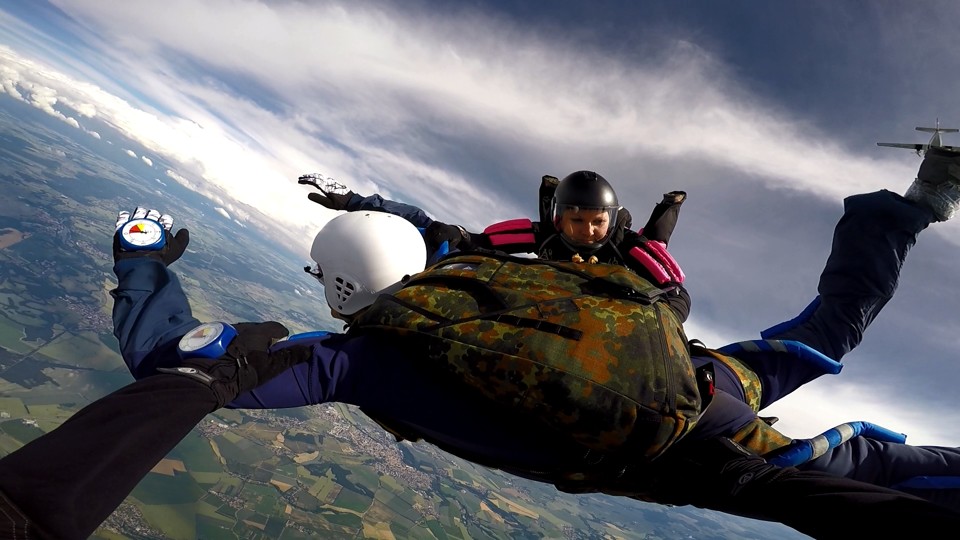 AFF / IFF
This program is intended for people who already did a tandem jump or static line jump and want to try free-fall with supervising instructors. The program consists of a ground school which is same as for AFF, and single free-fall jump. If the participant decides to continue in course she can buy remaining jumps and turn the course into regular AFF.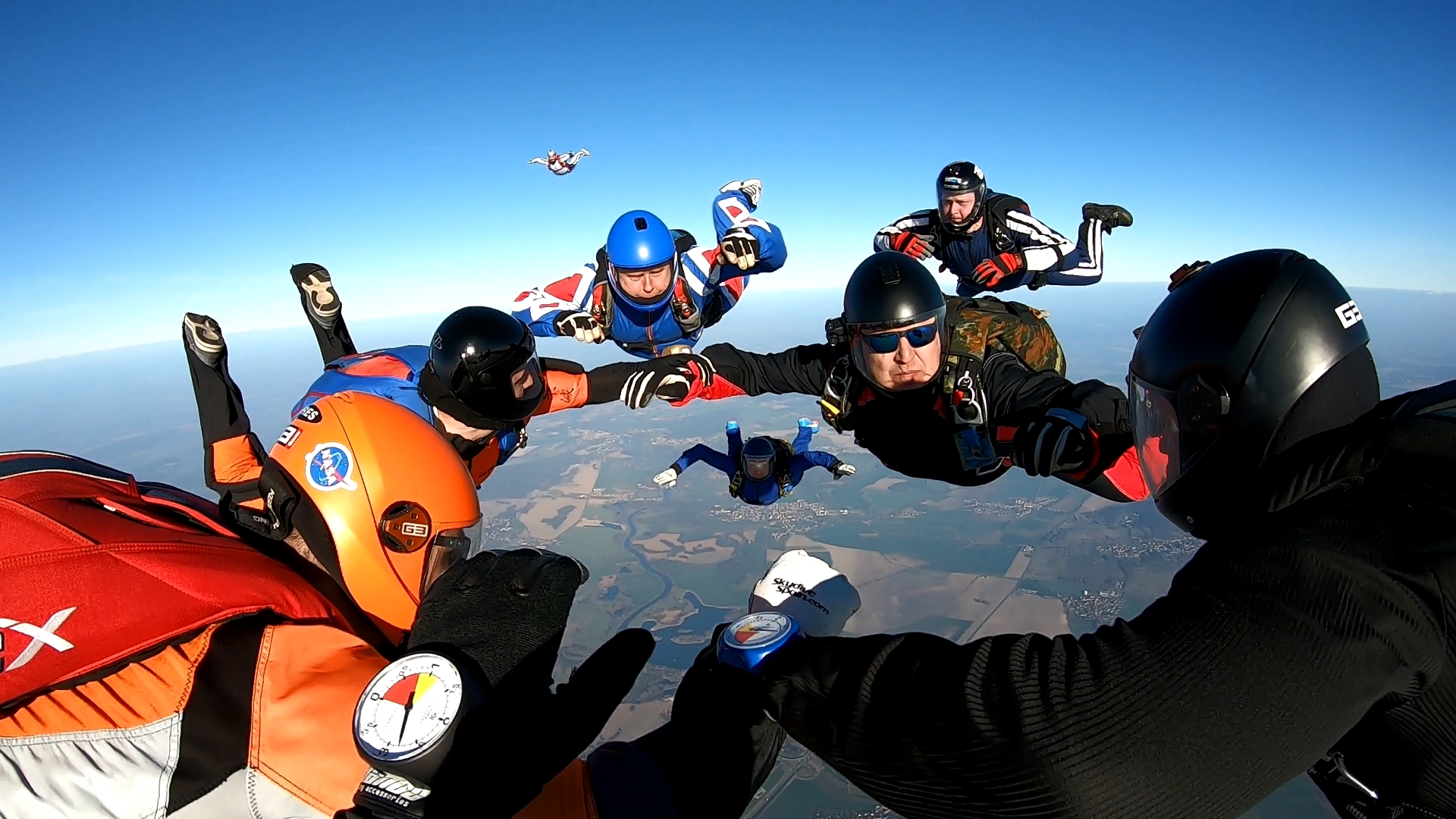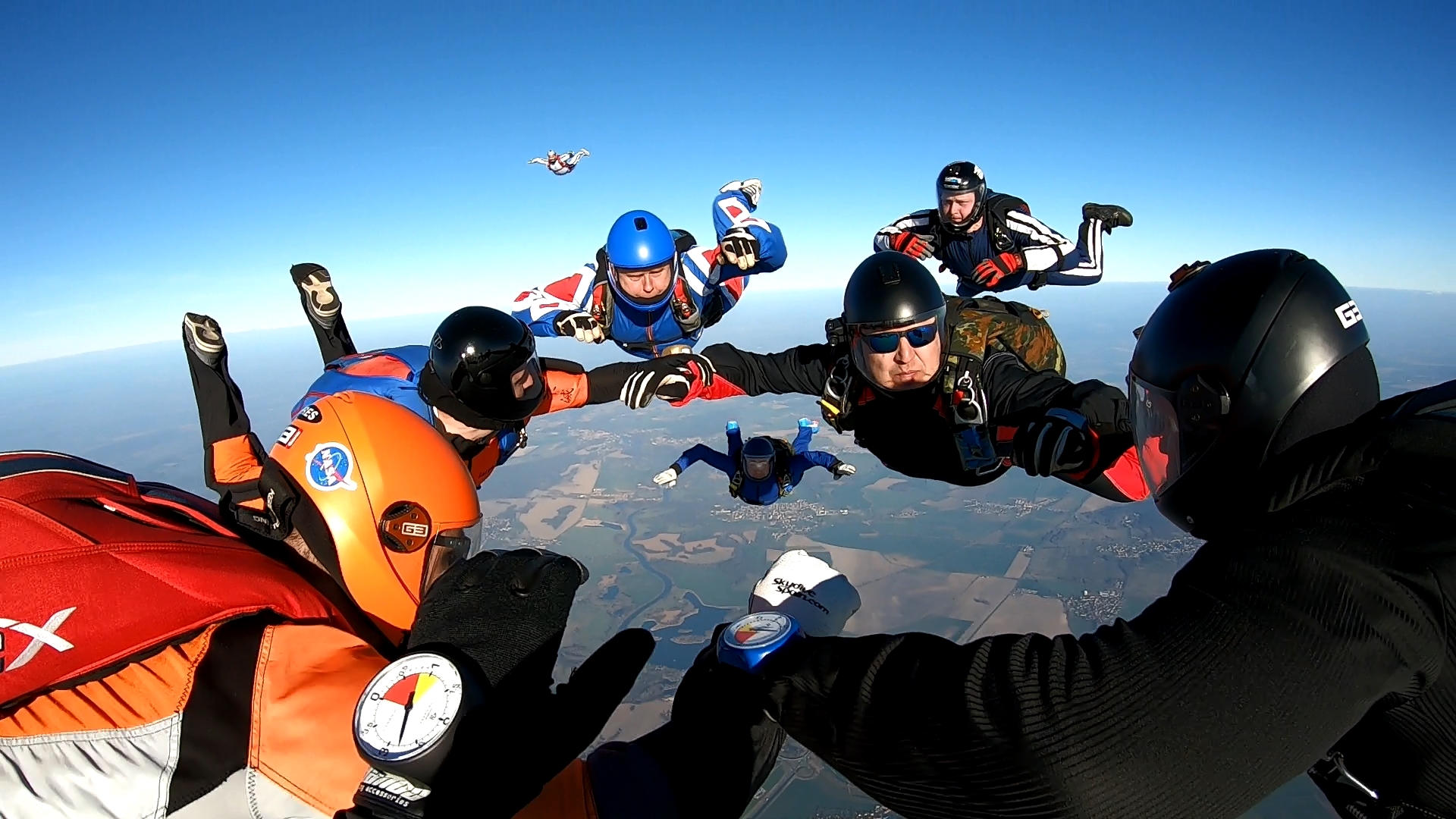 Advancing course
Continually follows up the basic course and serves for the transition from the automatic opening to the self-opening of the parachute in the free jump. This course contains about 35 jumps. The height of these jumps is around 1500 meters to 4000 meters. It is run by the sport curriculum AeČR and is finished with the administer of the category B.
Where and how do we perform tandem jumps
Tandem jumps are made at the airport in Cologne, where all facilities and planes for our activities are available. Since 2009 we are the only operators of the training center at Kolín airport for tandem jumps.
Given the fact that we are not mediators, but training center operators, listed jumps are available only in Kolin airport. Only here, we can garantee the quality, excellent facilities and professional approach of tandempilots.
We are certified by the Aero Club of the Czech Republic and the Ministry of Transport VS 004 / AeČR for the operation of the training center in the field of parachuting.
Kolín Airport is located 50km from Prague. You can use a bus or train from Prague to Kolín every hour. We are not operating tandem jumps in Prague due to the large restrictions on parachuting operations on the flight corridors of Ruzyně Airport.
Tandem jumps are operated from aircraft L – 410 turbolet and AN-2 up to 4000 meters. They are the most comfortable and safe planes for this activity. The L – 410 is equipped with two turbo engines. AN-2 is the largest flying biplane so far, equipped with 1000 horsepower radial engine.
We have experience and equipment to organizing tandem jumps for large groups. We can arrange jumps for 50 passengers almost immediately. We already performed tandem jumps for companies such as Microsoft, Kooperativa pojišťovna or ING Bank.
It is possible to arrange sightseeing flights with small sport planes and gliders in addition to tandem jumps