Special offer - Voucher for tandem parachute jump 4000CZK - tandem parachute jump with 1 year validity for two people for 7600CZK - tandem parachute jumps Kolín
Tandem parachute jumps will allow you to try skydiving, free fall or parachute flights how only experienced skydivers can. Without any effort or risk you can jump and look at the world from above. For a tandem parachute jump you don't have to undergo any lengthy training or medical examination. Anyone aged 8 to 100 years old can complete a tandem jump with us. You can also provide tandem skydiving with paraplegics.
Information about tandem jumps
We're using the most modern security systems created by Parachutes de France Atom, Next and Sigma companies. Every one of them are equipped with Cypres safety device for activation of your reserve parachute in emergency without the intervention of the tandem-pilot. All parachute systems are under constant revision.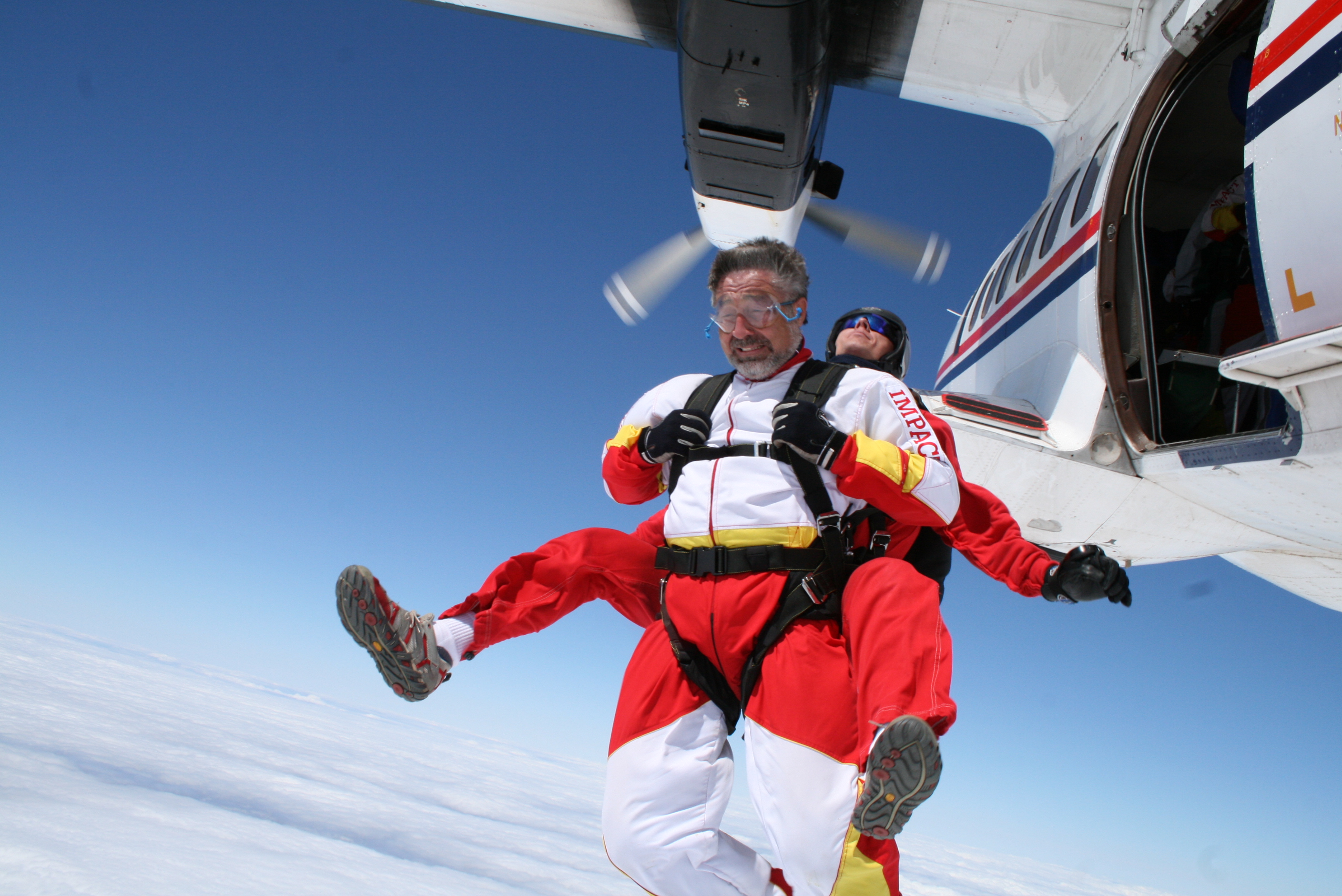 Preparation for tandem jump
The preparation for the Tandem Jump takes approximately 20 minutes. During this time the instructor will explain everything you need for a parachute jump. You will get sepcial jumpsuit, helmet and safety goggles.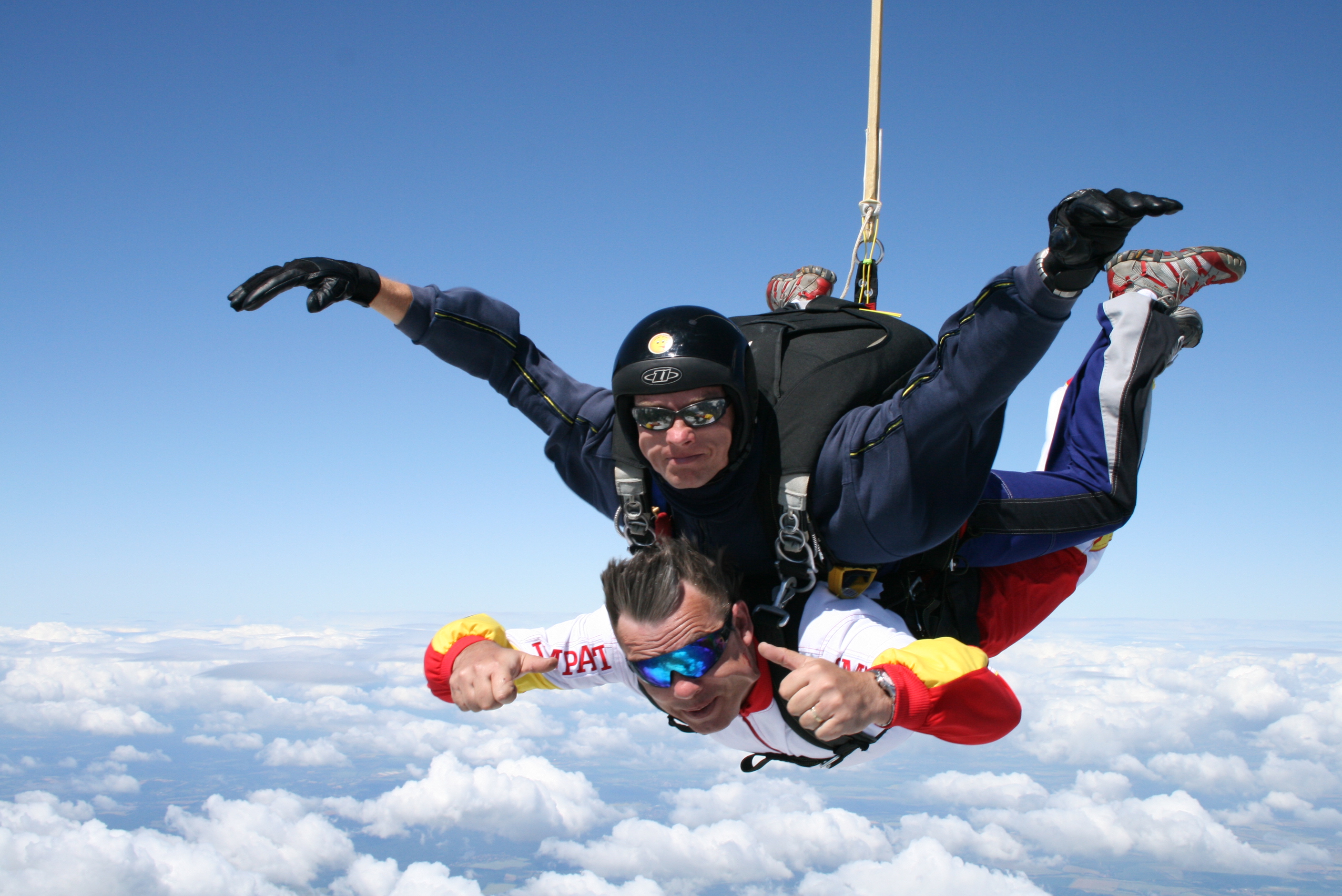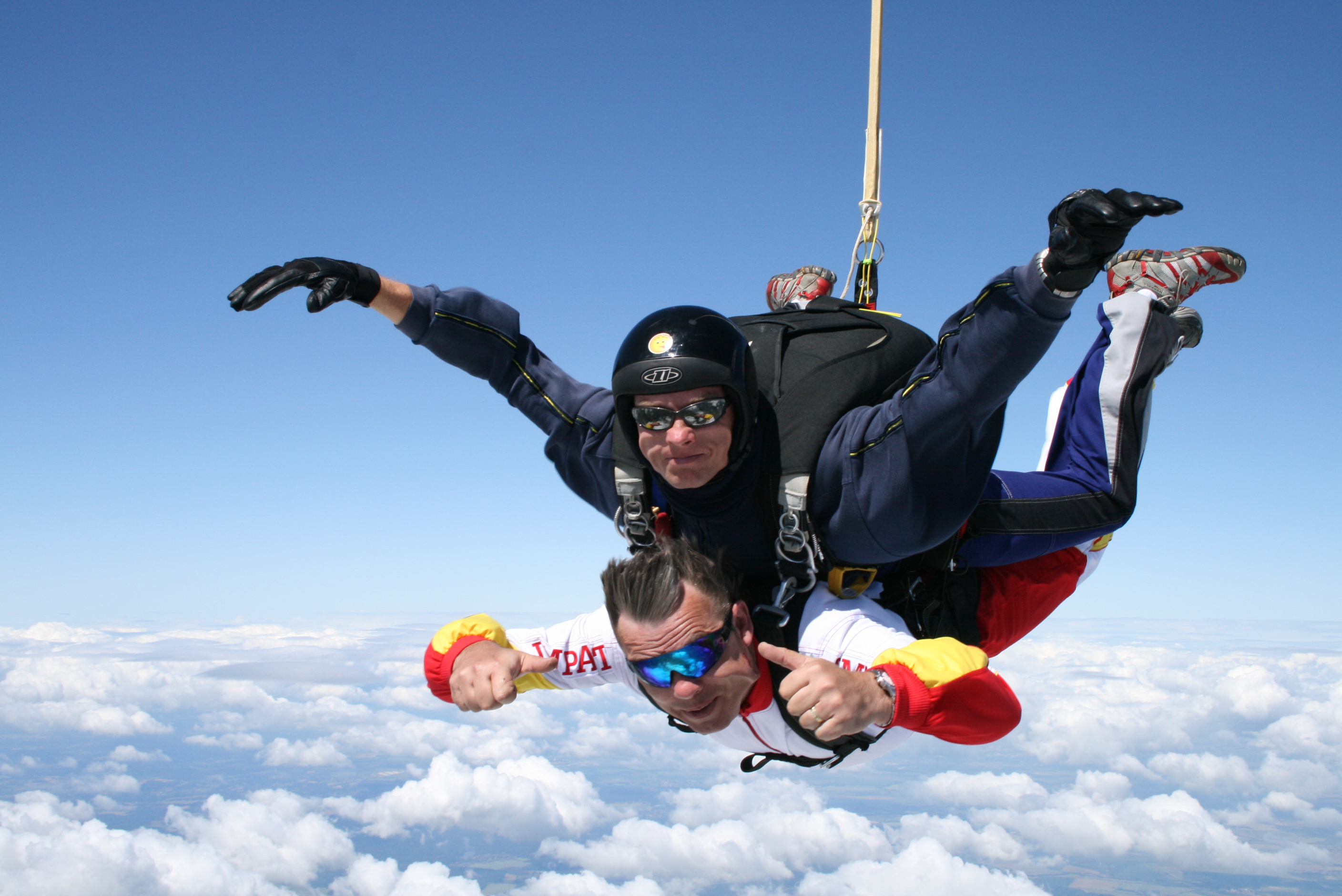 Gear and EQUIPMENT
You will get sepcial jumpsuit, helmet and safety goggles. In case if you wear dioptric glasses, you can get special glasses over your googles. We will equip you with a special harness which is attached to the tandem pilot.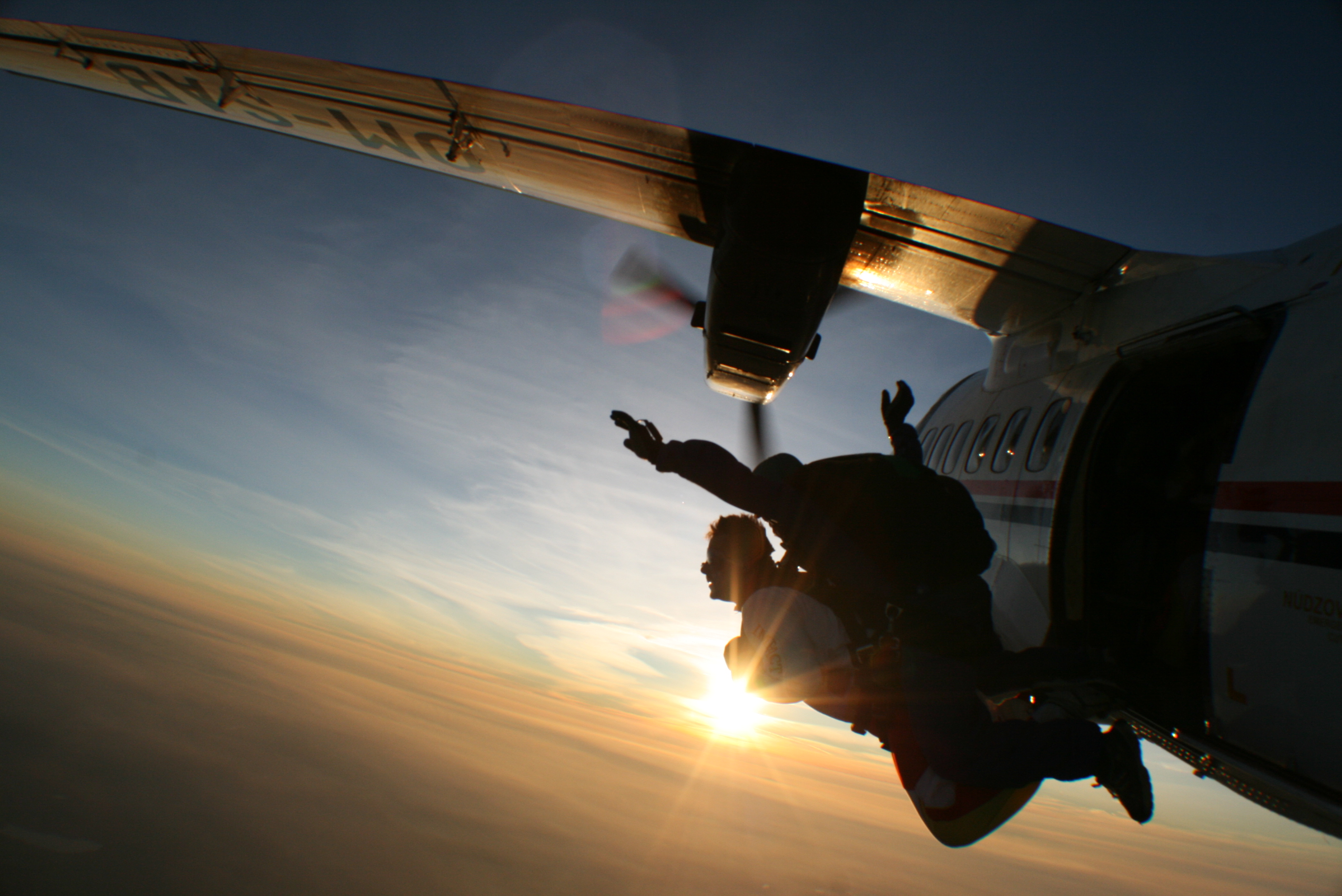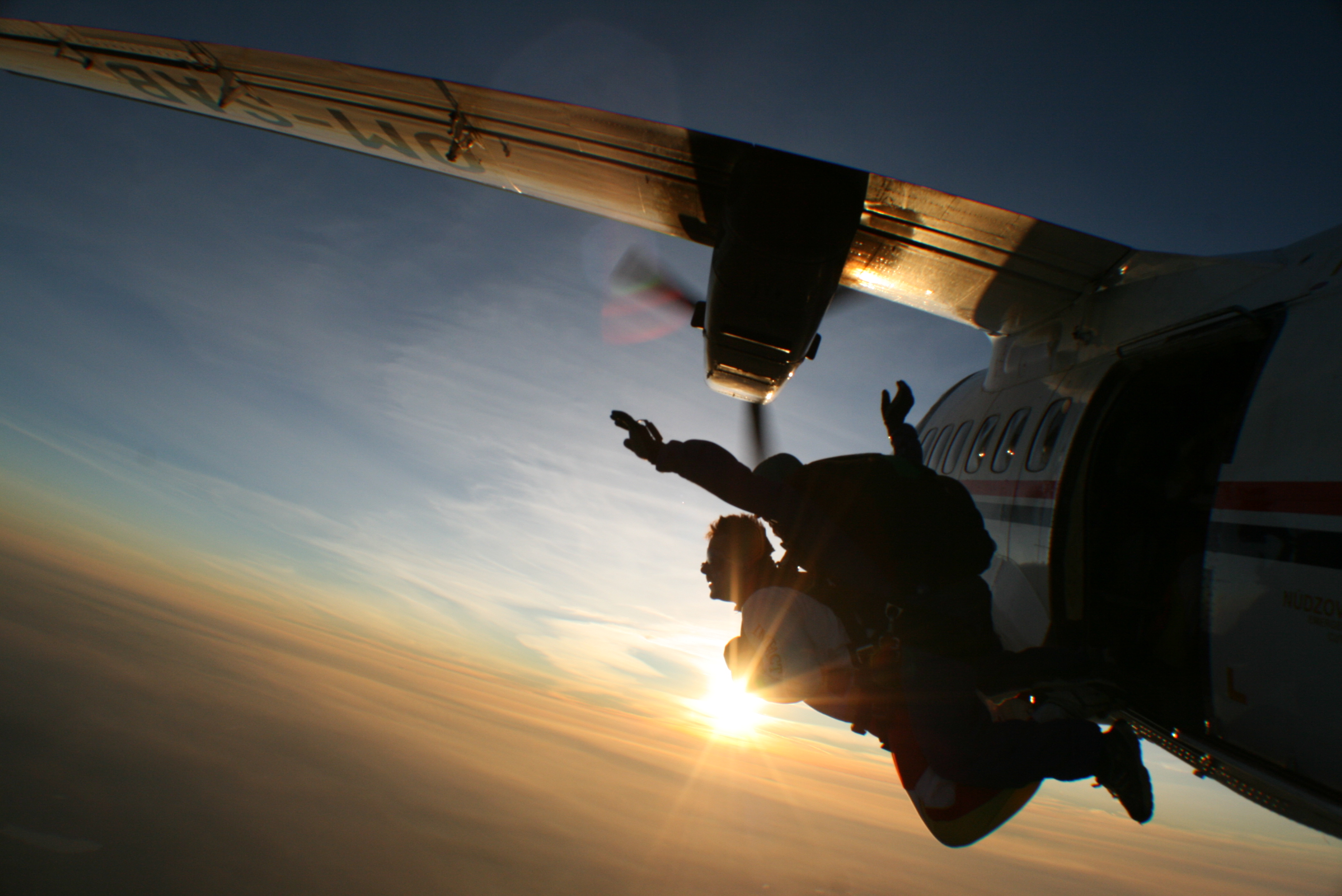 Plane flight
After 20 minutes of preparation, you will board to the plane with the instructor and climb to the height required for the tandem jump. During the flight you will see region of Kutná Hora, Kolín, Čáslav, Krkonoše or Prague.
Who will jump the tandem with you
Tandem jumps will be performed with instructors who have 3000 to 15000 jumps and already passed demanding courses. Each of them has 15 years of skydiving experience which is guarantee the smooth running of your experience. All of our tandem pilots have an annual practice around 500 jumps.
You are tied to a tandem pilot and jump freely for 35 to 50 seconds. At an altitude of 1800 meters, the instructor opens a tandem parachute and you can enjoy an additional 5-8 min flight. You can try driving yourself during the flight, if you want it. Before landing, the instructor will take control of the parachute from you and land safely together.
RECORDING
We will record your tandem jump from the very preparation to landing. An hour after the jump you will get a clipped and sounded USB drive with approximately 15 minutes of recording of your tandem jump. It's a great reminder of a unique experience.
WHAT'S INCLUDED
Tandem jump price including a jump with and instructor, rental of all equipment, including overlls, certificate, all airport fees and injury insurance.
What you need for a tandem jump
Bring your tandem jump voucher and sports shoes with you. Preparation, tandem skydiving and video takes approximately three hours of your time at the airport.
HEALTH RESTRICTIONS FOR TANDEM JUMP
In case if you are a cardiac, epileptic or diabetic, your doctor must decide the possibility of your tandem jump. The maximum weight for a tandem jump is 110kg. Over the age of 65 we are recommending the statement of your doctor for the jump
Tandem Jumps Dates 2022 - reservations
Tandem jumps must be booked in advance for a specific date and time.
If you didn't purchased tandem voucher for a tandem jump yet, it is necessary to pay a deposit of 500 CZK, when you booking your date. We will issue a deposit coupon and you will pay the remaining amount for the tandem jump at the airport before the jump.
We are collecting tandem jump deposit to prevent unnecessary seat reservations.
Where and how we performing tandem jumps
Tandem jumps are made at the airport in Kolín, where all facilities and planes for our activities are available. Since 2009 we are the only operators of the training center at Kolín airport for tandem jumps.
We are not tandem jumps mediators, but we are the operators of the training center for tandem jumps, which you can order in our website. We can also guarantee the quality, excellent facilities and professional approach of tandempilots.
We are certified by the Aero Club of the Czech Republic and the Ministry of Transport VS 004 / AeČR for the operation of the training center in the field of parachuting.
Kolín Airport is located 50km from Prague. You can use a bus or train from Prague to Kolín every hour. We are not operating tandem jumps in Prague due to the large restrictions on parachuting operations on the flight corridors of Ruzyně Airport.
Tandem jumps are operated from aircraft L – 410 turbolet and AN-2 up to 3 – 4000 meters. They are the most comfortable and safe planes for this activity. The L – 410 is equipped with two turbo engines. AN-2 is the largest flying biplane so far, equipped with 1000 horsepower radial engine.
We have experience and equipment to organizing tandem jumps for large groups. We can arrange jumps for 50 passengers almost immediately. We already performed tandem jumps for companies such as Microsoft, Kooperativa pojišťovna or ING Bank.
It is possible to arrange sightseeing flights with small sport planes and gliders in addition to tandem jumps
TANDEM JUMP Orders AND PRICES
Special offer – Voucher for tandem parachute jump for children and seniors for 4000CZK – tandem parachute jump with 1 year validity for two people for 7600CZK – tandem parachute jumps Kolín
Tandem jump can be purchased as a voucher with an open-ended 1 year validity for 4000 CZK (including VAT). If you want DVD recorded jump the price is 5700 CZK. The gift voucher comes with a promo DVD. If you cannot come to our office, we can send you a tandem jump voucher on delivery within 5 working days (postage + packing is 150 CZK).